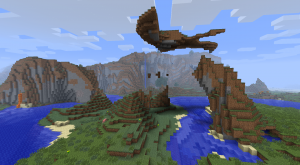 Are you looking for Minecraft Seeds? We've got 'em! Whether you're playing Minecraft Pocket Edition, PC, Xbox One or 360, or Playstation 4, you're going to find some great seeds to help you spawn near villages, ravines, and resources.
Table of Contents
Minecraft PE Seeds
Here are some Pocket Edition Seeds.
MCPE Seeds With Villages
Spawning with crops or a village is extremely helpful, as it will give you food right off the bat. That way you don't have to spend your time searching for food or worry about starving!
Minecraft PC Seeds
Here are some Minecraft seeds for PC. We know a lot of people like villages at spawn, so we've specifically included those. We're also partial to finding temples and ravines, as those are fun. Spawns with lots of resources are really good too!
With Village
Starting your Minecraft PC game with a village can make things much easier.
Xbox One Seeds
We'll be adding Xbox One seeds in the future.
PS4 Seeds
We also have the PS4 edition of Minecraft, but we don't play it often. If you have a seed you'd like to share here, let us know.
Special thanks to Bo Mertz, who's image is used under CC license 2.0.