Today we're going to share our thoughts on the boardgame Gloomhaven. This tactical RPG game is for 1-4 players and takes about 30 minutes to play per player. So for two players, the game took about an hour.
Warning: Our kids have grown up playing tactical games and RPGs like D&D. If you're just getting started with games, you may want to start with some beginner games. Gloomhaven is a violent and complicated game.

Table of Contents
What the adults had to say
Reviewer:
DesertMage
Gloomhaven Boardgame

–

"

A great RPG boardgame!

"

9 stars out of 10.
We were looking for a boardgame that captured the feeling of Patherfinder or Dungeons and Dragons. This game really did just that. The campaign booklet has text to read aloud, which tells the story and sets the mood for the game. But don't be afraid to make a few things up to add some flavor to the game. Having played story-based RPGs, my kids were already interacting with the text as I read it.
In addition, the mechanics of the game are really quite simple and easy to get into. It didn't take a lot of time pouring over the rules book to understand what to do. This may be partly because of our background with other boardgames and RPGs. There were a few places where the rules were unclear, but not anything that really brought the game to a halt.
The kids really enjoyed the fast-paced temp of the game. Sometimes other RPGs can get bogged down as people contemplate what to do next during their turn. The card-based action system really kept the game flowing and players were never at a loss for what to do.
The cost of the game may seem like a lot upon first glance, but the box is seriously huge with solid game components. This is probably the heaviest game I own. It comes with 18 high-quality plastic miniatures, lots of cardboard tokens, and many high-quality modular game board pieces.
Return to the table of contents

Gloomhaven review for kids by kids
Gloomhaven is marked for ages 14+. Our boys are ages 10 and 12. They loved the game and have given their reviews below. If you're wondering if it's kid appropriate, it is a fantasy-themed, cooperative boardgame with fantasy violence where the goal is to overcome hoards of enemies using tactical strategies. You play the good guys, fighting to right wrongs with your sword, magic, or other powers.
Reviewer:
QuestMaster
Gloomhaven Boardgame

–

"

Gloomhaven is a really fun boardgame!

"
9 stars out of 10.
Gloomhaven is a lot like Pathfinder, but they replaced the dice with cards. So it still requires luck but not the luck of the dice, but the luck of the draw.
I liked being the Mind Thief. I liked being able to push people across the room and force characters to take actions like a Jedi. My favorite moment was when I shoved a guy on fire across the room and as he was falling, he turned into ashes.
Overall, I liked the gameplay. You don't spend 30 minutes on one person's turn. That's pretty nice!"
Reviewer:
DesertPrince
Gloomhaven Boardgame

–

"

Gloomhaven was really, really fun.

"

7 stars out of 10.
I liked the card abilities and playing the Tinker. I liked making up the story and my favorite part was when there was a guy left with one health and QuestMaster used his gnawing rats ability. It was like Ender's Game with the giant and the mouse.
Return to the table of contents

Some Pictures of the game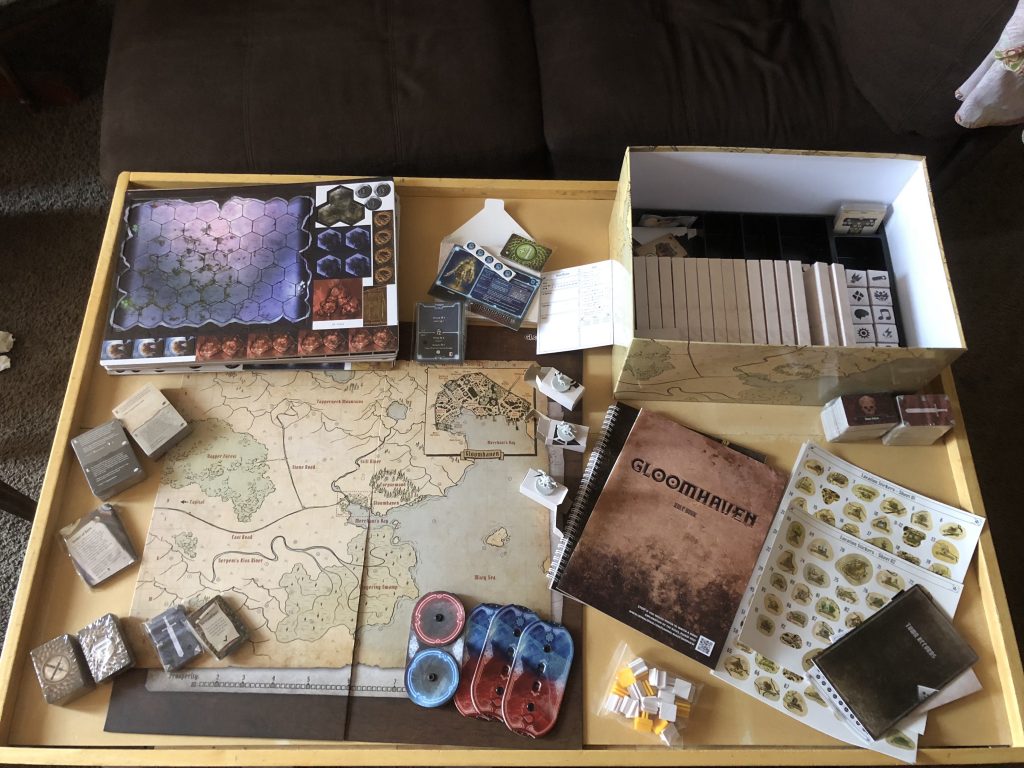 Gloomhaven Miniatures
Return to the table of contents

Gloomhaven Boardgame Video Reviews
Gloomhaven Review with Tom Vasel of DiceTower
Gloomhaven Review Shut Up and Sit Down
The Broken Token Gloomhaven Box Organizer Review
Gloomhaven Review – No Pun Included
Gloomhaven- Who stored it better? Daedalus vs Broken Token
Return to the table of contents