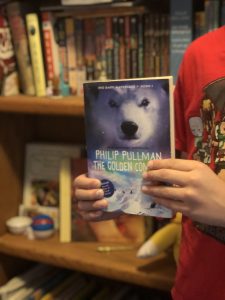 Book title:The Golden Compass
Reviewed by: DesertPrince
Rating:10 out of 10
Author: Philip Pullman
Grade Level: 3rd and 4th
Pages:399
Lexile reading level: 930L (what does this mean?)
Recommended grade: 3rd +
Recommended age range: 10-17
Is this a series? Yes.
"Young children from another world face physical challenges in a magical world as they try to free other children from the Gobblers."
Introduction
I think the book was a really good book about other worlds and stuff like magic. The book was mostly about a human girl, named Lyra, who is trying to save all these people from getting cut from their daemons. What I like about her is she is very brave and fierce. She faces many of the same difficulties that real children face and responds with emotions like fear, anger, grief,
and sadness.
Her main antagonist is the Gobblers, who I won't reveal more on because it would spoil the book.
Other characters I related to include Roger, who is Lyra's friend, and it's because he was taken by the Gobblers that Lyra sets out on her adventure to save him.
A 10-year-old's Opinion
I think other kids would enjoy this book because it's an action packed adventure with magic and other worlds.
It's probably not appropriate for young readers under the age of 7 or 8 because of the violence and the difficulty of the words used (vocabulary).
I really enjoyed the author's writing style, but sometimes it was a little hard to follow.
The book left me wanting to read the next book in the series, but it does wrap up many of the loose ends from the book, except the main part that propels you into the next book.
My favorite part of the book
My favorite part of the book is when Lyra escapes from Jordan college.
My recommendation
I recommend this book for people who like magic and who like crazy out of this world stuff.
Other books in the series
The next books are The Subtle Knife and The Amber Spyglass.
Other Golden Compass reviews
If you liked this review, pick up The Golden Compass on Amazon or buy His Dark Materials 3-book boxed set.